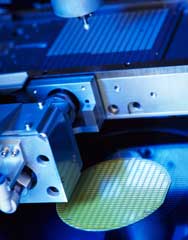 Cutting edge snap cure adhesives facilitate speedy productivity and feature convenient handling. These single component systems require no mixing and are designed to cure rapidly at moderate temperatures. Their short cure cycle results in energy and cost savings. Available for use in a variety of viscosities, these compounds are easy to apply and offer excellent bond strength. Additionally, they have superior resistance to adverse environmental conditions.
Types of Snap Cure Adhesives
Electrically conductive
Thermally conductive
Electrically insulative
Most Popular Snap Cure Adhesives
EP3SP5FL

Single component snap cure adhesive. Unsurpassed curing speed of 1-2 minutes at 300°F. Moderate viscosity with good flow properties. Easy to dispense. Good tensile lap shear strength. Repairable. Serviceable from -60°F to +200°F.

Supreme 10HTFS

One component heat curing silver conductive epoxy adhesive. Can be applied without dripping even on vertical surfaces. Rapid cure speed. Volume resistivit <10-3 ohm-cm. Serviceable from 4k to +400°F. Available in syringe applicators.