Titanium is a low density, high strength, tough, corrosion resistant, silver colored metal. It is twice as strong as aluminum and 45% lighter than steel. It possesses good heat transfer characteristics and does not become magnetized. Titanium has a melting point of 1,725°C. Non-toxic and biocompatible, titanium is often used in the healthcare industry.
Light weight titanium alloys feature enhanced strength, toughness and thermal stability capabilities. They are frequently used for:
Aircraft structural components
Automotive connecting rods
Turbine blades in power plants
Prosthetic devices
Bicycles
Disc drives
Heat exchangers
Master Bond formulates adhesive bonding systems for joining titanium to titanium and titanium to dissimilar substrates.
The chart below shows the average lap shear strength in psi for the Master Bond systems noted for bonding titanium.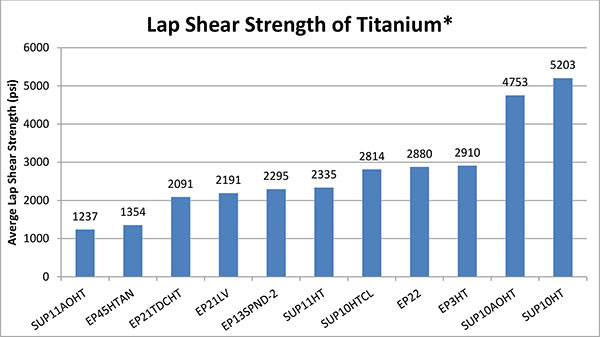 *Titanium was roughened and cleaned with acetone.
Read our guide to learn more about proper surface preparation for bonding metals.
Consideration for Bonding Titanium - Medical Grade Adhesives
Favorite products include EP30Med, EP42HT-2Med, EP21LV3/5Med, EP21LVMed, EP62-1Med and MasterSil 153Med. Biocompatible, optically clear, two component EP30Med features high strength, rigid bonds. EP42HT-2Med offers thermal stability, cures at room temperatures and withstands exposure to radiation, ETO, chemical and steam sterilization. Flexible, low viscosity epoxy system EP21LV3/5Med fully meets USP Class VI requirements. Another prominent biocompatible product is EP21LVMed. This easy to apply epoxy system has a convenient one to one mix ratio, superior electrical insulation properties and excellent resistance to thermal cycling. Master Bond EP62-1Med is noted for its dimensional stability, resistance to chemicals and Tg >170°C. Serviceable from -60°F to +450°F this compound has a long working life and versatile cure schedule at low temperatures. Addition cured MasterSil 153Med has a paste consistency and meets ISO 10993-5 specifications. It has a soft durometer and is serviceable up to 400°F.
Multiple formulations with different viscosities, colors, cure speeds, hardnesses, strengths, etc. are available for use for bonding titanium.