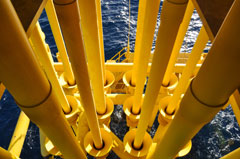 Coating the substrate with an epoxy compound is one of the most common and the easiest way to prevent corrosion. It forms a physical barrier between the harsh environment and the substrate, thereby protecting it from getting corroded. Choosing the right epoxy which can provide good corrosion resistance is very important.
How to Choose the Right Epoxy Coating
Depending on the exact conditions that will be prevalent, the epoxy coating used can be varied. For example, some epoxies provide better resistance to acidic environments, whereas some epoxies provide better moisture resistance. Also, it is important to know the temperature involved in the application, because certain epoxies can resist higher temperatures as compared to others. Hence, a proper evaluation of the exact nature of corrosion taking place in your application and a proper choice of epoxy coating, can enhance the durability and the performance of the substrates involved in your application.
Additionally long term protection from erosion caused by solid particles, water, fluids is essential for extending equipment life. Careful consideration of coating thickness, density, hardness will enable improved operational efficiency of key components. Non-sag high build brush applied compounds offer excellent adhesion to metals such as steel, aluminum, iron, copper and glass reinforced plastics for heat exchangers, butterfly valves, process vessels, pipe linings, pumps and filters. Simple mix ratio systems can be used to coat a variety of shapes even in confined areas. Proper surface preparation procedures must be followed to maximize erosion/corrosion resistance performance.
Q & A on corrosion resistant coatings.
Most Popular Corrosion Resistant Epoxy Systems
EP39-2

Low viscosity, two component epoxy system. Superior light transmission properties. Rigid curing. Short tack-free time. Can be applied by roller, brush or conventional spraying equipment. Superior chemical resistance. Serviceable from -60°F to +300°F. Successfully tested for 1,000 hours 85°C/85% RH. Guards against wear.

EP21ARHT

Serviceable from +400°F. Exceptional acid resistance. Cures at room temperature. Good flow properties. 100% reactive. Low shrinkage upon cure.
Withstands 1,000 hours 85°C/85% RH. Reliable electrical insulator. Adheres well to metals, glass, ceramics, rubbers and plastics. Shore D hardness 80-90.

EP38

Electrically insulative compound. Excellent flowability. High flexibility. Superior tensile and compressive strength. Cures quickly. Outstanding optical clarity. Protect against boiling water. Short tack free time. Low shrinkage upon cure. Easy to apply by roller, brush, spray equipment. Serviceable from -60°F to +250°F.

EP30-2

Cryogenically serviceable. NASA low outgassing approved. 100% reactive. Excellent light transmission properties. Outstanding dimensional stability. High tensile and compressive strength. Successfully tested for 1,000 hours 85°C/85% RH. Excellent dielectric properties. Serviceable from 4k to +300°F.

EP125

Resists prolonged service above 500°F. Exceptional durability and flexural strength. High adhesion to metallic and non-metallic substrates. Heat curable system. Tg +240°C. Special two part epoxy with very long working life. Excellent compressive strength. Service operating temperature range from -80°F to +600°F.