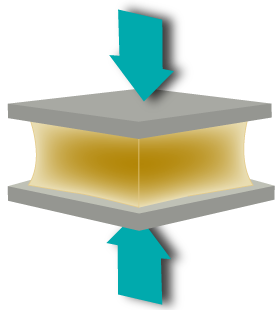 Advanced formulations feature outstanding resistance to compressive forces. Products are designed for service in structural bonding applications. Specific grades offer compressive strengths as high as 15,000-20,000 psi at room temperature.
Key Benefits of Master Bond High Compressive Strength Systems
Corrosion resistance
High/low temperature serviceability
Excellent adhesion to similar and dissimilar substrates
Easy application
Most Popular High Compressive Strength Compounds
Two component heat resistant epoxy system. Cures at elevated temperatures (2-3 hours at 275-325°F) Superior durability and chemical resistance. Quartz filled. Compressive strength > 20,000 psi.
Room temperature curing epoxy offers toughness and high physical strength properties. Serviceable from -60°F to +450°F. Exceptional electrical insulation properties. High bonding strength.
High performance adhesive, sealant and coating. Outstanding dimensional stability and low shrinkage. Cures at ambient temperatures or more rapidly at elevated temperatures. Exceptionally high tensile modulus and compressive strength.