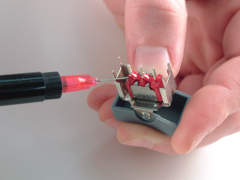 Room or ambient temperature curing systems offer easy processing and high reliability. These one and two component systems are used in bonding, sealing, coating and potting/encapsulation applications.
Reaction Curing Compounds
Many two component epoxy systems will polymerize at ambient temperatures when the epoxy resin reacts with a hardener. After curing is initiated an exothermic reaction occurs. Set up times range from 4-8 minutes at ambient temperatures to 24 to 48 hours. Their rate of cure will depend on bond line thickness, humidity, temperature and the types of substrates they are joining.
Addition Cured Systems
Room temperature vulcanizing (RTV) silicones cure at room temperature when the base component is mixed with a catalyst. Addition cured system do not require exposure to air for cross-linking. No by-products are released during cure. They can cure in closed environments. These systems feature outstanding flexibility combined with high temperature resistance.
Water Evaporation Curing
One part, no mix water based adhesive systems feature convenient cure schedules and simple dispensing. These ecologically safe, non-toxic, non-flammable formulations bond well to many substrates. Products offer good setting characteristics, spread smoothly and are odorless. These cost effective compounds can be diluted with water and can cure more rapidly upon exposure to heat.
Latex systems
Silicate based systems
Moisture Curing Adhesive Systems
Master Bond ready-to-use one component moisture curing adhesives feature easy application. They reduce manufacturing costs, bond well to many similar/dissimilar substrates and are serviceable over a wide temperature range. These compounds alleviate pot life concerns and eliminate waste. They provide consistent, reliable performance and are employed in the assembly of many industrial products.
One part silicones
Cyanoacrylates
Most Popular Room Temperature Curing Adhesives, Sealants, Coatings, Potting and Encapsulation Compounds
Two component ambient temperature curing epoxy has a forgiving 1 to 1 mix ratio by weight or volume. Properties of cured system can be altered by tweaking the mix ratio. Moderate viscosity. High performance system.
Two part silicone paste for bonding and sealing applications. Outstanding flexibility. Low exotherm, long pot life system. Self priming feature. Contains no solvents. Superior electrical insulation properties. Can cure in wide sections vertically and horizontally.
NASA low outgassing approved epoxy adhesive. Can be applied without sagging on vertical surfaces.
Flexible epoxy adhesive has rapid set up time and cure. High peel strength and elongation. Withstands mechanical shock and vibration. Resists thermal cycling.
Flexible, low viscosity epoxy system. Excellent shear and peel strength properties. Withstands thermal cycling. Remarkable adhesion to polycarbonate and acrylics.
One part sodium silicate adhesive/coating for service up to 1,500°F. Low viscosity, rigid bonding system. Highly effective moisture barrier.
High strength, no mix adhesive with rapid fixture time. Bonds well to ceramics, metals, rubbers and most plastics. Viscosity 2,200 - 2,400 cps.