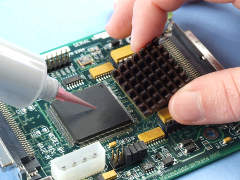 Master Bond offers a wide variety of epoxies, silicones, polyurethanes, polysulfides and UV curable formulations designed to withstand thermal cycling. These compounds are also ideal for the bonding, sealing, coating and potting/encapsulating of substrates exhibiting different coefficients of thermal expansion and contraction. Durable and tough, these products exhibit outstanding performance in high and low temperature environments.
Applications Featuring Thermal Cycling Resistant Polymer Systems
Some common applications using Master Bond's thermal cycling epoxies and silicones include:
Sealing heat exchanger tubes and endplates
Encapsulation of heat generating devices and modules
Bonding metal and fiber reinforced composites in aerospace production
Packaging of stress sensitive semiconductor devices
Most Popular Thermal Cycling Resistant Compounds
One part, heat cured epoxy system exhibits temperature resistance up to +600ºF, while maintaining resistance to thermal shock and repeated thermal cycling. High shear strength system. Paste consistency.
Two component, silver filled, electrically conductive system with high flexibility and elongation. Serviceable over the wide temperature range of 4K to +250°F.
Low viscosity, tough, flexible, optically clear potting and encapsulation compound. Superior resistance to vibration, shock and thermal cycling. Cures at room temperature.
Thermally conductive, electrically insulative epoxy adhesive. High peel and shear strength properties. Resists up to +400ºF. Non-drip system.
One component, no mix epoxy adhesive/sealant. Serviceable from 4K to +350ºF. Resistant to thermal cycling, thermal shock, vibration and stress fatigue cracking. Solvent-free and 100% reactive.