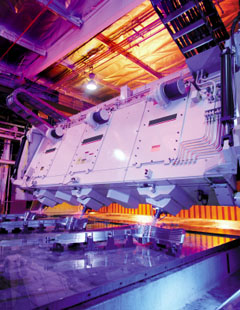 Master Bond one and two component, heat curable epoxies, silicones, polyurethanes and polysulfides feature outstanding performance and reliability. They offer excellent adhesion to similar and dissimilar substrates and can withstand exposure to a wide range of chemicals.
Benefits of Heat Curable Systems
Master Bond heat curable systems are employed in the aerospace, automotive, electronic, optical, medical, renewable energy and other industries. Specific grades offer:
High and low temperature serviceability
Resistance to vibration and shock
Optical clarity
Fast cures
Superior electrical insulation properties
Special grades are also certified to meet the following requirements:
NASA low outgassing
USP Class VI for biocompatibility
UL 94V-0 for flame retardancy
Halogen free
Some of Our Most Popular Heat Curing Systems
Two component epoxy system offering long term thermal stability at 500°F. High peel and shear strength properties. Cures at elevated temperatures.
One part, heat cured epoxy (250-300°F curing) that meets biocompatibility specifications.
Thermally conductive, electrically insulative, no mix epoxy adhesive. Enhanced resistance to thermal cycling. Fast curing at moderate temperatures. Serviceable from -100°F to +350°F. Thixotropic paste.
One part, no mix epoxy meets NASA low outgassing specifications. Serviceable up to 650°F. Tg is 225°C. High shear, tensile and compressive strength properties. Cures in 90-120 minutes at 300°F.
Fast cures at ambient 175°F (80°C). Recommended for bonding heat sensitive substrates. Outstanding thermal cycling capabilities.
Cures rapidly at moderate elevated temperatures. Superior resistance to moisture and chemicals. Two part epoxy has long pot life at ambient temperatures. High bond strength properties.
Performance Properties for Heat Curable Adhesives
As with all products in the Master Bond family, specific grades can also vary in viscosity, cure speed, chemical resistance, electrical properties and can be custom formulated to fit your application needs.