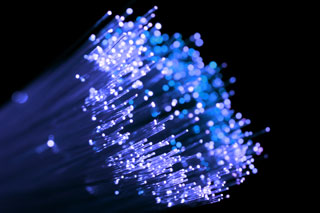 Master Bond offers an extensive line of epoxies and UV curing systems for use in fiber optics devices. These products provide superior bonding strength and excellent optical clarity. Master Bond's adhesives contain no potentially objectionable contaminants and exhibit excellent resistance to corrosion and adverse environmental conditions.
Applications of Master Bond's Fiber Optics Adhesive Systems
Master Bond fiber optics compounds are used as adhesives, sealants and coatings in different fiber optics devices. Common applications include:
Sealing fibers into ferrules
Bonding optical fibers into connectors
Potting fiber bundles
Bonding fiber optic bundles into ferrules
Splices and field repairs
V-groove array assemblies
Learn about fiber optic terminations for singlemode and multimode connectors
Advantages and Important Adhesive Selection Criteria for Fiber Optic Systems
Long pot life
High glass transition temperature
NASA low outgassing approved
Low shrinkage
Superior optical transmission
1,000 hours of exposure to 85°C/85% humidity
Dual Cure (UV/heat curable) systems
Environmentally friendly, solvent free systems
Most Popular Adhesives for the Fiber Optics Industry
Optically clear epoxy. Designed for high performance fiber optics bonding, coating, potting and encapsulation applications. Exceptionally low viscosity and high spectral transmittance.
Rapid curing two component epoxy system. Low viscosity. Optically clear and non-yellowing. Superior chemical resistance. Superb electrical insulation properties.
One component, UV curable epoxy system. Forms strong bonds, coatings, seals and castings with superior chemical resistance. Excellent resistance to heat and moisture.