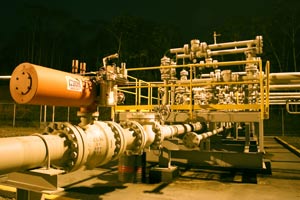 Master Bond offers a complete line of high performance polymer compounds for MRO applications. They consist of epoxy, silicone, polysulfide, polyurethane and cyanoacrylate formulations. These products are designed to provide solutions to problems caused by wear/abrasion, chemical attack, mechanical damage, fatigue and erosion/corrosion. Common uses include repairing pipes, engine blocks, chutes, splines, fan housings, rubber, aluminum and stainless steel parts.
Key Benefits
One and two part systems
Fast curing grades
High/low temperature serviceability
Vibration, shock and impact resistant
Environmentally friendly
Withstand exposure to many chemicals
Easy Application
Standard container sizes are ½ pint, pint, quart, gallon and five gallon units. Additionally MRO compounds are packaged in convenient syringe, cartridge, flexible divider pouch and gun applicators. They are freshly prepared to ensure maximum shelf life and are available for use in small and large volumes. Trowable, brushable and pourable grades are available for use.
Used in a Wide Range of Industries
Chemical plants
Mines and quarries
Power plants
Pulp and paper
Oil and gas
Wastewater treatment
Learn more about Master Bond's metal filled adhesive systems for MRO applications.
Most Popular Adhesives for Maintenance, Repair and Overhaul
Gels in 3 minutes at room temperature. Convenient one to one mix ratio. High bond strength and long term durability.
Flexible epoxy adhesive has rapid set up time and cure. High peel strength and elongation. Withstands mechanical shock and vibration. Resists thermal cycling.
High performance aluminum filled epoxy with one to one mix ratio. Excellent bond strength to metal surfaces. Resists many chemicals and thermal cycling. Low shrinkage upon cure. Easy to apply. Flowable paste viscosity.
Two part, room temperature curing, silica filled epoxy with outstanding wear resistance. Superb chemical resistance.