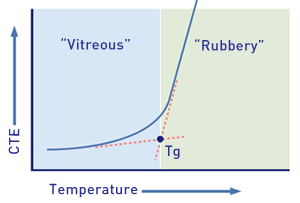 High glass transition epoxy compounds are of paramount importance to the selection of adhesives/sealants for elevated temperature applications. These products exhibit superior mechanical, thermal and electrical properties than lower Tg materials at high temperatures. Master Bond offers a versatile selection of high Tg materials to meet specific application requirements.
Certifications for High Tg Epoxies
Specific Master Bond one and two part systems meet the following certifications:
USP Class VI for biocompatibility
NASA low outgassing
RoHS
Halogen free
Learn more about the importance of Tg in selecting the right epoxy.
Most Popular Products with High Glass Transition Temperature
Multi-purpose, one part UV curing system for bonding, sealing, coating and encapsulation. Excellent optical clarity, superb physical properties, moderate viscosity. Ultra high glass transition temperature (Tg) over 180°C.
One component, no mix structural epoxy adhesive. Cures at 300°F in 90-120 minutes. Tg >220°C. Excellent chemical resistance. Superior electrical insulation properties.
fast curing, two component epoxy adhesive. Tg >125°C. NASA low outgassing certified. Available in convenient gun applicator.
Single part, heat curing epoxy adhesive. High peel and shear strength. Resistant to thermal cycling and vibration, impact and shock. Tg 130°C-160°C.
Easy to use epoxy system. Long working life at room temperature. Cures at moderately elevated temperatures. Outstanding chemical resistance properties. Glass transition temperature >170°C. Superior dimensional stability.