You are here
Polysulfide Adhesives, Sealants and Coatings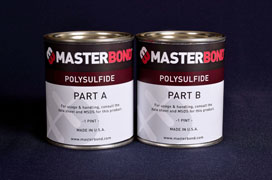 Master Bond polysulfide formulations offer corrosion protection, superior electrical insulation and good flowability. These elastomeric compounds are 100% reactive and are designed to cure at ambient temperatures or at slightly elevated temperatures.
Properties of Polysulfide Adhesive Systems
Underwater curing capability
Exceptional chemical resistance
High dielectric strength
High physical strength
High and low cryogenic temperature serviceability
Resistance to vibration, impact, shock and thermal cycling
Metal free
Long-term resistance to gasoline, natural gas, gaseous fuels, kerosene, alcohol, crude oils and its derivatives
Easy application with no drip feature
Excellent adhesion to similar and dissimilar substrates
Most Popular Polysulfide System Products
Two part, room temperature curing polysulfide paste. Excellent for bonding and sealing in fuel and oil environments.
Two part, room temperature curing polysulfide system with excellent flow. Used primarily for potting, encapsulating and coating applications.
Two part, room temperature curing, very flexible polysulfide system with excellent thermal conductivity. Low viscosity and good flowability for potting and encapsulating applications.
Applications of Polysulfide Adhesives
Master Bond polysulfides are versatile synthetic elastomers that are used in the electronic, electrical, computer, metalworking, appliance, automotive and chemical industries. They can be used in a wide range of applications, such as:
Aircraft fuel tank sealants
Industrial tank liners
Electrical potting
Corrosion protection of offshore structures
Vibration resistance of electro-optical devices