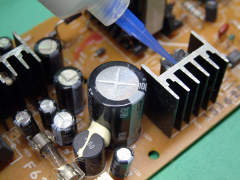 Master Bond offers a variety of graphite filled, electrically conductive adhesives, sealants and coatings. These compounds are used in applications that require a non-magnetic adhesive with high lubricity. Graphite filled adhesives offer a more economical alternative to silver filled epoxy systems.
Applications of Graphite Filled, Electrically Conductive Systems
Graphite filled compounds are used for their non-magnetic properties and their cost effectiveness. Common applications of our graphite filled conductive adhesives include:
EMI/RFI shielding
Electro static discharge (ESD) anti-static systems
Bonding and sealing electronic components, electrical devices and electro-optical systems
Most Popular Electrically Conductive Graphite Filled Polymer Systems
Graphite filled epoxy adhesive/sealant for use in specialty applications as well as EMI/RFI shielding where a non-metallic filler is required. Superb resistance to moisture and chemicals. Exceptional durability.
Two component, graphite filled, electrically conductive silicone compound. Cures to a tough, flexible black rubber. Superior resistance to vibration and shock. Service temperature range of
-85°F to +400°F.
Cost effective, one component, graphite filled, elastomer adhesive/sealant/coating for EMl/RFI shielding. Superior shielding over a wide frequency range and excellent environmental resistance.