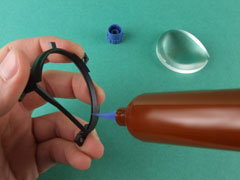 Cutting edge adhesive formulations are available for bonding glass to glass and to numerous other substrates. These compounds are available as epoxies, silicones, polyurethanes, cyanoacrylates and UV/LED curing systems. They are designed to provide optimal performance even upon exposure to hostile conditions.
Key Benefits of Master Bond's Glass Bonding Adhesives
Master Bond's glass bonding adhesive systems are easy to apply and feature high strength bonds. Different grades include:
One and two part systems
Solvent free compositions
Optical clarity
Non-yellowing properties
Moisture resistance
Thermal stability
Specific compounds offer exceptionally fast cure speeds and toughness. A variety of viscosities are available to improve application efficiency and productivity.
For more information on bonding glass substrates please read our recommended surface preparation procedure.
Most Popular Glass Bonding Polymer Systems
One component, no mix, UV curable adhesive. High strength bonds and superior chemical resistance properties. Low viscosity. Excellent dimensional stability. Fast curing.
UV curable epoxy adhesive with enhanced temperature resistance. Chemically resistant. Low shrinkage upon cure. Shore D Hardnes >75. Post curing offers a Tg over 125°C. No mix system.
Two component, room temperature curing epoxy adhesive. Superb optical clarity. High performance compound featuring superior electrical insulation properties. High bond strength to similar and dissimilar substrates. Low viscosity.
High peel and shear strength epoxy adhesive. Convenient one to one mix ratio. Room temperature curing. Serviceable from -100°F to +400°F. Resists vibration, impact, shock and thermal cycling. Long-term durability.