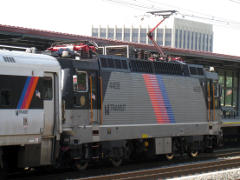 Master Bond offers an extensive product line for use in various transportation industries. Grades are designed to offer various mechanical, thermal and electrical properties that are essential for transportation applications. Master Bond's compounds are utilized in the railway, aerospace, agriculture and construction machinery, automotive and marine industries.
Typical Applications Include:
Gasketing and sealing
High performance structural bonding
Potting and encapsulation
Porosity sealing
Composite assembly
Seam sealing
Structural adhesive systems for the transportation industry
Properties of Master Bond Systems for Transportation Applications
Examples of performance properties pertinent to applications in the transportation industry include:
Abrasion and wear resistance
Resistance to shock, vibration and impact
Compliance with UL 94V-0 flame retardant specifications
NASA low outgassing approval
Chemical resistance
High/low temperature serviceability
Most Popular Transportation Adhesive/Sealant Systems
Tough, flexible epoxy adhesive cures rapidly at ambient temperatures. High bond strength. Cryogenically serviceable. Easy to use, one to one mix ratio.
Room temperature curable and high temperature resistance up to 450°F, this epoxy exhibits superior adhesion to dissimilar substrates. High peel and shear strength. Withstands vibration, shock, impact and thermal cycling.
One component, silicone paste resists up to 300°C (572°F). Elongation 250-350%. Extremely soft. Non-corrosive cure. Available in tube, jar and cartridge containers.
Two component epoxy adhesive features thermal stability and heat dissipation properties. Superb electrical insulator. High compressive strength. Excellent dimensional stability.