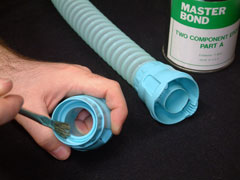 Bonding plastic parts is increasingly recognized as a major challenge in many assembly operations. Master Bond has developed a comprehensive line of adhesive systems designed to bond plastic substrates to each other, as well as to metal, rubber, ceramic and glass.
Bonding Plastic Parts
Different compounds are available to bond specific plastics, including:
Polyesters
Polyolefins
Polyimides
PVC
Fluoropolymers
Learn more about plastic bonding adhesive properties and applications.
Some of Our Most Popular Systems for Plastics Bonding
Two part, room temperature curing epoxy system with a convenient one to one mix ratio. Bonds to a wide variety of plastics including ABS, DAP, styrene and many others. Easy to apply.
Two part, room temperature curing epoxy system with excellent optical transparency. Low viscosity. Bonds extremely well to more sensitive plastics such as polycarbonates and acrylics.
One part, low viscosity adhesive. Meets USP Class VI certification. Resists ETO sterilization. For disposable medical devices. High bond strength to many plastics.
Two part epoxy requiring moderate heat curing (80-120°C). Meets USP Class VI biocompatibility specifications. Superb resistance to repeated autoclaving along with excellent adhesion to high temperature plastics such as Ultem, PEEK, etc.
One part, oven curing epoxy system with very good adhesion to a wide range of plastics. Especially well suited for bonding dissimilar plastic materials.
One part, room temperature curable, solvent based system ideal for bonding polyolefinic materials and flexible PVC. Excellent for use as a polyolefinic primer for epoxies, urethanes, etc.
One part, no mix, fast curing compound. Tack free cure. High bond strength to a wide range of substrates. Superior moisture resistance. Solvent free formulation.