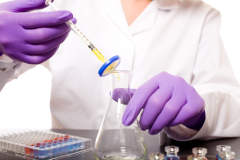 From processing facilities to production plants to power stations, Master Bond solvent resistant adhesives, sealants and coatings are satisfying the needs of material and design engineers. These specialty formulated systems feature exceptional bond strength, easy application and reliable long-term durability.
Master Bond Solvent Resistant Systems
Specific grades offer outstanding resistance to selected solvents such as:
Acetone
MEK
Toluene
Carbon tetrachloride
Master Bond's database of chemical immersion tests extends up to 10 years
Most Popular Solvent Resistant Polymer Systems
Two component, ambient temperature curing system with excellent physical properties. Thermally stable. High compressive strength. Features extraordinary resistance to fuels, alcohols and organic solvents.
High performance adhesive/sealant/coating. Serviceable from -80°F to +500°F. Resists thermal cycling. Outstanding solvent resistance. 100% reactive. Cures at elevated temperatures.