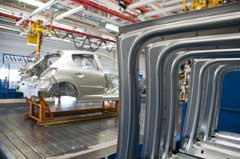 Technologically advanced adhesives, sealants, coatings and potting/encapsulation compounds are designed to meet the demanding requirements of the automotive industry. These products feature superior durability and thermal stability, as well as resistance to vibration, impact, shock, abrasion and many chemicals. From structural bonding to the assembly of vehicle electronic components to climate control and chassis/brake applications, Master Bond products offer incredible dependability.
Typical Applications of Master Bond Automotive Assembly Compounds
Master Bond epoxy, silicone, cyanoacrylate and UV cure systems will improve vehicle performance. Typical applications include:
Pedal systems
Electronic fuel injection systems
Alternator assemblies
Restraint systems
Water pumps
Speakers
LED headlamp controllers
Key Benefits of Master Bond Automotive Adhesive Systems
Widest selection of formulations
Environmentally friendly, solvent free products
One and two part systems
Rapid cure speeds
High strength bonds
Long-term durability at high/low temperatures
Superior chemical resistance
Resists exposure to vibration, impact and shock
Improved aesthetics
Improved design flexibility
Most Popular Adhesive Compounds for the Automotive Industry
One part heat cured epoxy with high temperature service range to 400°F. Tensile lap shear for aluminum to aluminum of 3,600 psi at 75°F. Meets NASA low outgassing specifications.
Two part, room temperature curable system with high tensile and peel strength, widely used in environments where there is excessive mechanical shock or impact as well as thermal cycling.
Gels in 3 minutes at room temperature. Convenient one to one mix ratio. High bond strength and long term durability.
Fast cures at ambient 175°F (80°C). Recommended for bonding heat sensitive substrates. Outstanding thermal cycling capabilities.
Thermally conductive, electrically insulative epoxy adhesive. High peel and shear strength properties. Resists up to 400°F. Non-drip system.