You are here
Sterilization Resistant Adhesives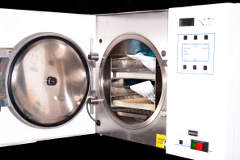 Worldwide manufacturers of disposable and reusable medical devices specify Master Bond sterilization resistant adhesives, sealants, coatings, potting and encapsulation compounds for their most demanding needs. They are USP Class VI certified and designed to adhere well to a wide range of substrates. These user friendly products can be cured at ambient temperatures, elevated temperatures or by exposure to UV light.
Adhesives, Sealants and Coatings with Outstanding Sterilization Resistance
Grades are available that resist the following sterilization methods:
Steam autoclave
Ethylene oxide (ETO)
Radiation
Cold chemical sterilants
Select products will retain their performance properties even upon exposure to multiple sterilization cycles. These products are formulated for reusable medical devices.
Most Popular Sterilization Resistant Polymer Systems
High strength, flexible UV curable compound. Outstanding water and chemical resistance. Fast curing. USP Class VI approved.
Two part, low viscosity epoxy offers fast set up time. Exceptionally low shrinkage upon cure. Meets USP Class VI specifications. Excellent electrical insulation properties.
Heat resistant epoxy adhesive/sealant/coating/casting system. Resists multiple cycles of ETO, radiation, chemicals and steam. Castable to thicknesses exceeding 2-3 inches. Solvent-free.