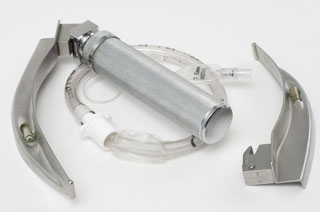 Master Bond offers a comprehensive line of epoxies, silicones, polyurethanes, cyanoacrylates and UV cure systems for the assembly of both disposable and reusable medical devices. These compounds feature high bond strength to similar and dissimilar substrates, have the ability to fill gaps and are easy to apply.
Master Bond Epoxies Meet USP Class VI Requirements
Our medical grade adhesive formulations are biocompatible as per USP Class VI testing. Specific grades are resistant to the following sterilization methods:
Steam autoclaving
Ethylene oxide (ETO)
Radiation
Cold chemical sterilants
Special compounds can withstand multiple sterilization cycles.
Master Bond Medical Products are Used in a Wide Range of Applications
Master Bond medical grade adhesives are highly reliable and are used in many diverse medical device applications. They include:
Endoscopes
Infusion pumps
Handheld surgical instruments
IV kits
Catheters
Imaging equipment
Blood heat exchangers
Some of Our Most Popular Adhesives for Disposable and Reusable Medical Devices
Addition cured silicone system. Meets ISO 10993-5 and USP Class VI specifications. Resists up to +400°F. Outstanding flexibility and elongation. Shore A hardness 20-35. Self priming feature. Paste consistency.
One component, room temperature curing elastomeric adhesive. Meets USP Class VI requirements. Bonds polyolefins without surface pretreatment. Also used as a primer. Unique balance of shear and peel strength properties.
Biocompatible, high viscosity, UV curable compound. Optically clear. Glass transition temperatur >140°C. Rapid curing, no mix system. Withstands repeated sterilization.
High temperature resistant, two component epoxy system. USP Class VI approved. Long working life. Resistant to repeated cycles of sterilization.
Heat resistant epoxy adhesive/sealant/coating/casting system. Resists multiple cycles of ETO, radiation, chemicals and steam. Castable to thicknesses exceeding 2-3 inches. Solvent-free.
Two component epoxy paste adhesive. Resists sterilization exposure. USP Class VI approved. Outstanding thermal stability and electrical insulation properties. Cures at ambient temperatures.
One part, high viscosity system. Cures tack-free without any oxygen inhibition. Meets USP Class VI Specifications; also passes ISO 10993-5 Cytotoxicity test.