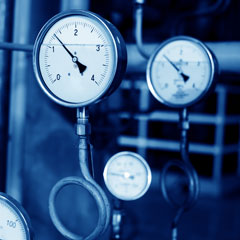 Inhibiting heat transfer is of crucial importance in many inudustrial bonding and coating applications. Many epoxy and polyurethane systems feature a range of heat insulative properties. These compounds can be used where electrical insulation or isolation is required. They offer high bond strength, low outgassing, thermal stability, excellent corrosion resistance, durability and dimensional stability. Additionally they contain no solvents and are easy to apply in thin layers.
Common Applications Featuring Thermally Insulating Compounds
Thermally insulating bonding and coating compounds help in lowering heat transfer and improving product reliability in many applications ranging from electronics devices to ovens to processing equipment to pipes to appliances.
Most Popular Thermally Insulative Compounds
Two component, room temperature curing, low viscosity epoxy. High physical strength properties. Optically clear, chemically resistant. Shore D hardnes >75.
Low viscosity, high strength two part epoxy system. Adjustable rigidity and flexibility by altering the mix ratio. Outstanding electrical insulation. Meets FDA requirements for indirect food contact.
Urethane modified epoxy featuring toughness and abrasion resistance. Withstands thermal cycling, impact and shock. Shore A hardness 90-95. Flows smoothly. Cures at ambient temperatures.
High temperature resistant, moderate viscosity epoxy cures rigid. Superb electrical insulator. Exceptional dimensional stability. Superior light transmission properties.
Single component, fast curing epoxy adhesive with high shear strength properties. Resists up to 400°F. Superb thermal and electrical insulator. "Unlimited" working life at room temperature.
Bonding, sealing, coating, potting compound serviceable from -60°F to 450°F. Castable up to 2-3 inches thick. Resists acids, alkalis and many solvents. Shore D hardnes >75.