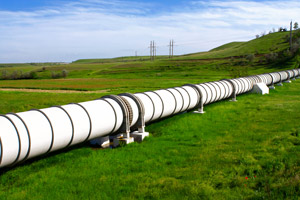 Both internal lining and external coatings provide protection against gasoline, kerosene, alcohols, crude oils and natural gases. Master Bond solvent free epoxy and polysulfide systems offer unmatched performance to meet challenging environmental conditions.
Highly engineered products are employed to protect above ground, underground and under water pipelines. In addition, they protect vessels, tanks and containment areas against corrosion and feature convenient application techniques. These compounds ensure optimal adhesion and maximum flow efficiency. Oil and gas transmission companies can rely on Master Bond for solutions.
Learn more about our epoxies for the Liquefied Natural Gas Industry.
Most Popular Epoxy Compounds for the Coating & Lining of Pipelines
Two component epoxy compound withstands prolonged immersion in gasoline, gasohol, fuels and oils. Contains no solvents or diluents. High compressive strength. Cures at ambient temperatures or more quickly at elevated temperatures.
Two part, room temperature curable epoxy system for bonding, coating, sealing and potting. Low viscosity for ease of application. Highly chemical and temperature resistant.
Two component polysulfide/epoxy adhesive/sealant. Cures at room temperature. Non-sagging, non-drip system. Exceptional toughness and chemical resistance properties.
Find out more about protective epoxy coatings for oil and gas pipelines.