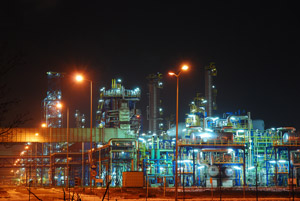 Master Bond high performance adhesives, sealants and coatings offer petrochemical manufacturing companies cost effective solutions for their demanding application needs. Our epoxy, polyurethane and polysulfide products provide protection against:
Galvanic corrosion
Crevice corrosion
Pitting
Stress corrosion cracking
Corrosion fatigue
Specific grades withstand exposure to:
Mineral acids
Alkalis
Corrosive salts
Solvents
Gases
They also exhibit resistance to:
Abrasion/wear
Elevated temperatures
Erosion
Advantages of Master Bond Adhesives
Long-term reliable serviceability of chemical processing equipment is needed to maximize productivity. Our products are designed to prevent mechanical failure, leaks and significantly increase component life. Key advantages of Master Bond products include:
Gap filling capabilities
Application and cure at ambient temperatures
Solvent free formulations
Outstanding adhesion to steel, aluminum alloys, copper and other metals
Toughness
Convenient mix ratios
Dimensional stability
Super electrical insulation properties
Ease of usage
Monitoring and maintenance of equipment/structures are necessary for the efficient operation of large scale high volume petrochemical production facilities. Selecting the best adhesive/sealant/coating tailored made to specific needs will improve product quality, lower costs, help meet competitive pressures and increase profitability.
Learn more about our chemically resistant epoxy formulations.
Applications for Master Bond Polymer Systems Within the Chemical Processing Industry
Pumps
Valves
Reservoirs
Tanks
Heat exchangers
Pipes
Most Popular Polymer Systems for the Petrochemical Industry
Durable, two component epoxy adhesive/sealant/coating. Can successfully withstand immersion for more than a year in 36% hydrochloric acid and 96-98% sulfuric acid. Cures at room temperature. Features high bond strength.
Very low viscosity, two part, optically clear epoxy system. Withstands exposure to cryogenic shock. High bond strength. NASA approved for low outgassing. Requires a minimum temperature of 135-150°F for curing.
Two component polysulfide/epoxy adhesive/sealant. Cures at room temperature. Non-sagging, non-drip system. Exceptional toughness and chemical resistance properties.
Two part, water and steam resistant epoxy cures at 80-100°C and withstands autoclaving. Excellent chemical and electrical insulation properties. Features a long working life.
Fast curing, medium viscosity epoxy system. High toughness and long term dimensional stability. Resists up to 400°F to 450°F. Superior chemical and wear resistance properties. Outstanding bond strength.