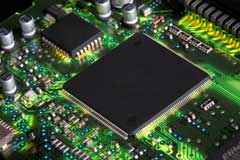 Master Bond is leading the way in semiconductor packaging with a complete line of underfill, die attach, glob top and encapsulation compounds. These systems are designed for easy processing and dependability.
Applications of Master Bond's Semiconductor Adhesives
Our epoxy systems can be applied in many different semiconductor applications, such as:
Passive components
Discrete components
BGA/CSP
QFN
SOIC/SOP
Flash/DRAM
Optics
Learn more about adhesives for chip stacking applications
Properties of Master Bond Epoxy Systems for Semiconductor Applications
Select grades offer exceptional mechanical, electrical, thermal and optical properties, including:
Thermal conductivity
Electrical insulation
Snap cures
B-stage
Low outgassing
Ultra low moisture absorption
Low coefficient of thermal expansion (CTE)
Stress absorption
Serviceability in extreme temperatures
Most Popular Adhesives for the Semiconductor Industry
One part, UV curable epoxy with ultra fast curing. Good physical properties and chemical resistance.
Low viscosity, optically clear epoxy. Ideal for thermal cycling and sensitive components. Has a room temperature or low elevated temperature cure.
Cost effective alternative to silver filled epoxy with a silver coated nickel filler. Excellent conductivity and physical properties.
One part oven cured system (125-150°C) for underfills and flip chips, good dimension stability and very easy to use. Cures rigid.
Flexible, low viscosity, thermally conductive silicone potting/encapsulation compound. Serviceable up to +400°F. Withstands thermal cycling. Can cure in thicknesses beyond 1-2 inches. Low exotherm.
Thermally conductive, electrically insulative epoxy. Has low thermal expansion coefficient. Superior dimensional stability. Good flow properties. Exceptionally low shrinkage upon cure.
One part, electrically conductive epoxy with low resistance. Good strength properties. Cures at 125-150°C. Meets NASA low outgassing specifications and offers superior temperature resistance.
Two part, room temperature curable epoxy with superb flexibility. Widely used for potting and encapsulation where low stress on sensitive components is desirable. High optical clarity.