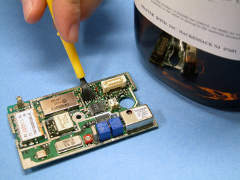 Master Bond offers a wide variety of electrically conductive adhesives with a nickel filler. Both one and two component systems are available for use. These compounds provide a more cost effective solution than silver filled grades for applications that require low volume resistivity. They also feature outstanding resistance to water and chemicals.
Applications of Nickel Filled, Electrically Conductive Systems
Master Bond nickel filled adhesives offer high physical strength, superior substrate adhesion and uniform conductivity even upon exposure to hostile environmental conditions. Long-term durability is excellent. Common applications include:
Assembly and repair of PCBs
EMI/RFI shielding
Bond conductive gaskets
Ground chassis and electronic boxes
RFID tagging
Most Popular Electrically Conductive Nickel Filled Polymer Systems
Two component, nickel filled, electrically conductive adhesive for high performance bonding, sealing and coating. Formulated to cure at room temperature or more rapidly at elevated temperatures. Adaptable to thermal cycling and resistant to many chemicals.
Two component, nickel filled, electrically conductive system with high flexibility and elongation. Serviceable over the wide temperature range of 4K to +250°F.
Nickel filled epoxy adhesive has fast set up time and cure times. One to one mix ratio by weight or volume. Bonds well to similar and dissimilar substrates. Paste consistency.
Two component, nickel conductive epoxy adhesive features superior toughness. Excellent peel and shear strength properties. Low volume resistivity. Cures at room temperature.