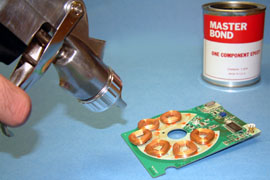 Conformal coatings are essential for enhancing the reliability and long-term performance of electronic assemblies. They provide superior protection against:
Dust
Dirt
Abrasion
Fungus
Moisture
Chemicals
Mechanical stress
Shock and vibration
Properties of Conformal Coatings
Master Bond conformal coatings include very fast, one part UV curing formulations, one and two part epoxies, one and two part silicones and a unique cost effective latex system. Specific grades offer:
Low viscosity
Wide temperature resistance
Repairability
Rapid cures
High dielectric strength
Low stress
For intricate parts with shadowed out areas we also offer special "dual cure" coatings, which cure with both UV light and the addition of heat. Other special compounds are:
Optically clear
Non-yellowing
Cryogenically serviceable
Ultra low in viscosity
Environmentally friendly, Master Bond conformal coatings are 100% reactive and contain no solvents or diluents.
Most Popular Conformal Coating Compounds
Resilient, optically clear, two component epoxy resin system. Long working life. Excellent electrical insulation properties. Cures accelerated by heat. Chemically resistant. Low mixed viscosity.
Easily processable, two part epoxy with excellent chemical resistance, particularly to solvents. Available in black.
Easy to process, ultra low viscosity, one part, no mix, very soft silicone material. Excellent moisture resistance.
Low viscosity, two part epoxy with outstanding chemical resistance. Withstands autoclaving. Passes USP Class VI biocompatibility tests.
Two part epoxy with superb toughness. Allows for parts to be retrieved, but still offers outstanding environmental protection.
Dual cure, low viscosity, rigid curing system. Offers excellent environmental protection. Cures by UV light and by heat at 125°C in shadowed out areas.