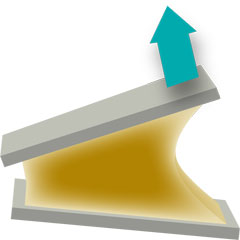 Designing the strongest possible bonded joints is an important but difficult task for engineers. Joining substrates in complex assemblies can be challenging. Engineers are faced with numerous concerns including appearance, reduced corrosion, vibration, sound dampening, lightweighting, adhering dissimilar substrates, electrical insulation, heat dissipation and other factors. Additionally a special emphasis must be placed on assembly costs.
Master Bond has developed adhesive formulations that can withstand severe stress between rigid surfaces that are opened at one end. These one and two component systems are noted for their durability, strength, electrical and thermal properties. They also possess formidable resistance to both hostile chemical vapor and immersion exposure.
Surface preparation is recommended to maximize performance. Our products are available for use in high and low volume applications. They are easily dispensed with manual, semiautomatic and automatic application equipment.
Most Popular High Cleavage Strength Adhesives
Rapid, room temperature curing system. Withstands harsh mechanical and thermal shocks. High viscosity. Superior durability and toughness.
One part, no mix, thermally conductive, electrically insulative compound. Passes NASA low outgassing testing per ASTM E595. Resists up to 400°F. Cryogenically serviceable. Superior dimensional stability.
Two component epoxy with one to one mix ratio by weight or volume. Resists vibration and stress fatigue cracking. 100% reactive. Serviceable from -100°F to +400°F. Adhesive spreads evenly and smoothly. Meets NASA low outgassing specifications.
Outstanding chemical resistant properties. Long working life. Thermal stability up to +425°F. Superb thermal cycling capabilities. Cures at ambient temperatures.