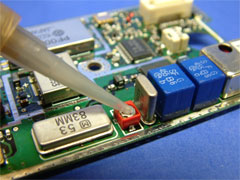 Master Bond formulates a wide range of room temperature, heat and UV curable systems that offer flowability for convenient easy application. They are recommended for adhering surfaces with tight clearances and have high bond strength to a wide range of substrates.
Applications of Master Bond's Low Viscosity Systems
Master Bond's low viscosity compounds are used for bonding, sealing, potting, encapsulation and impregnation applications. Their low viscosity nature facilitates filling cavities and crevices in confined areas in various cross section thicknesses. Extra low viscosity impregnants eliminate porosity in porous castings and seal against most fluids and gases.
Types of Low Viscosity One and Two Component Systems
Epoxies
Silicones
Polyurethanes
Cyanoacrylates
Elastomeric contact cements
UV cures
Properties of Master Bond's Low Viscosity Compounds
Master Bond will custom formulate a product with properties that meet specific design requirements. Certain grades offer:
High and low temperature resistance
Fast cures
Optical clarity
Flexibility and toughness
High strength
Superior chemical resistance
Master Bond's Most Popular Low Viscosity Adhesives, Sealants, Coatings, Potting/Encapsulation Compounds and Impregnation Resins
USP Class VI approved, low viscosity epoxy. Convenient one to one mix ratio. Ideal for potting and encapsulation. High strength system. Shore D hardnes >70.
Easy to use, one part silicone compound. Superb elasticity. Non- corrosive. Ideal for small encapsulations and conformal coatings. Clear color.
Potting compound offering low exotherm. Outstanding chemical resistance and electrical insulation properties. Cures at ambient temperatures or more quickly at elevated temperatures.
Biocompatible epoxy resists exposure to sterilants. Optically clear. Rigid bonds. Outstanding electrical insulation properties. Meets FDA CFR 175.105 specifications for indirect food contact.
Tg>175°C. Superb optical clarity. Long working life. Outstanding chemical resistance. Meets NASA low outgassing specifications.
One part, no mix UV curable system. High optical clarity. Designed for laminating, sealing, bonding and coating. 100% reactive. Shore A hardness 10-15. Long term resistance to water and many chemicals.