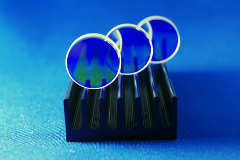 From telecommunications, robotics and medicine to information processing, Master Bond has the solution to your photonic application needs. Master Bond offers the widest selection of epoxies, silicones, polyurethanes, cyanoacrylates and UV cures for the photonics industry.
Performance Properties of Master Bond's Photonics Industry Adhesives
Master Bond's specialty formulations for the photonics industry offer outstanding performance properties. Specific grades offer:
High optical clarity
Abrasion resistance
Superior non-yellowing properties
NASA low outgassing approval
Resists 1,000 hours of exposure to 85°C and 85% humidity
Most Popular Adhesives, Sealants and Coatings for Photonic Applications
Thermally stable, room temperature curing epoxy. Features high optical clarity and superior physical strength properties. Meets NASA low outgassing specification ASTM E595. Electrically insulative.
UV curable, low viscosity/high temperature adhesive with enhanced mechanical properties if post cured. Refractive index of 1.517. Easily polished. 100% reactive/contains no solvents.
Single component, high viscosity UV curable compound. Unsurpassed dimensional stability. Extended service capability of -80°F to +300°F. High optical clarity. Shore D hardnes >60.