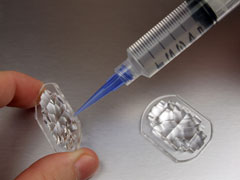 Master Bond's high performance one and two component industrial sealants are easy to apply and are available for use in convenient applicators. They provide cost effective solutions for high tech applications. Our sealing products consist of epoxies, silicones, polysulfides and polyurethanes. They are 100% reactive and contain no solvents or diluents.
Common Applications for Master Bond's Industrial Sealants
Our formulations are used in a wide range of industries including aerospace, electronic, appliance, oil/chemical processing, medical, optical, etc. They are involved in various sealing applications including:
Hatches
Semiconductor electronics
Thermostats
Optical devices
MEMS
Switches
Pipe joints carrying corrosive chemicals
Modules and housings
Pumps
Industrial ovens
Our Most Popular Sealant Formulations
B-staged film adhesive/sealant. Outstanding thermal cycling capabilities and structural properties. Offers superior toughness and flexibility. Excellent strength retention at elevated temperatures.
Light paste. Spreads evenly and smoothly. Superior chemical resistance properties. Cures at room temperatures. Machinable.
Two component epoxy with wide applicability for bonding, sealing and coating of plastics such as acrylics and polycarbonates.
UV curable system with superior resistance to chemicals, particularly solvents. Cures rapidly at room temperature upon exposure to UV light.
Addition cured silicone. Will not outgas while curing. Resists up to +400°F. Soft durometer. Offers repairability. Paste consistency. Long pot life.