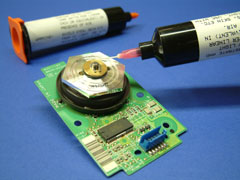 Master Bond fast curing, single component UV curable adhesives, sealants, coatings, potting and encapsulation compounds speed productivity and efficiency. They offer excellent adhesion to glass, metals, ceramics, rubber and most plastics. These one part products require no mixing and eliminate waste.
Learn more:
Advantages of Master Bond UV Curable Compounds
Extremely fast processing time
Formulated in rigid, semi-flexible and flexible grades
Available in syringe applicators
Environmentally safe, no emittance of volatiles or vapors
Prolonged storage at room temperatures
Features and Properties of UV Curing Systems
As with all products in the Master Bond family, specific grades vary in viscosity, hardness, thermal and electrical properties, but can be customized to fit your application needs.
Some of Our Most Popular UV Curable Products
Multi-purpose, one part UV curing system for bonding, sealing, coating and encapsulation. Excellent optical clarity, superb physical properties, moderate viscosity. Ultra high glass transition temperature (Tg) over 180°C.
Low viscosity, rigid UV curable system with superb thermal stability. Also capable of spin coating.
UV curable system with superior resistance to chemicals, particularly solvents.
UV curing system with high flexibility that is biocompatible per USP Class VI testing.
Specialty UV curable translucent paste that is ideal for sealing and bonding.
Optically clear, easy to apply UV curable system. Meets NASA low outgassing specifications. Superior electrical insulative properties. High physical strength properties and superior chemical resistance.