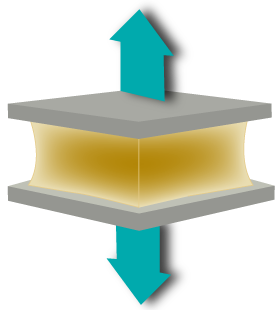 Superior tensile strength adhesives from Master Bond are employed in many critical bonding applications. These compounds feature high reliability and dependability even upon exposure to hostile environmental conditions. Designed for easy application, both single and two component products are available for use.
Special Features of High Tensile Strength Adhesives
Specific grades offer:
Snap cures
High Tg
Optical clarity
Thermal and electrical conductivity
Low outgassing properties
USP Class VI certification
Special Formulations for ASTM C633 Testing
ASTM C633 is a test to determine adhesion or cohesion strength of thermal spray coatings. This test requires an adhesive with exceptionally high tensile strength, and Master Bond offers two products for use in such applications. EP15, a liquid version of the epoxy, is preferable when dealing with ceramic substrates, while the paste version, called EP15ND-2, is preferable for metallic substrates.
Most Popular High Tensile Strength Adhesives
One component, heat curing epoxy adhesive. Tensile strength > 12,000 psi. Cures in 60-90 minutes at 250-300°F. Excellent dimensional stability. Bonds well to a wide range of substrates.
NASA low outgassing approved two component epoxy compound. Low viscosity. Exceptionally low shrinkage upon cure. Superior chemical resistance. Optically clear.
Two component, low viscosity, optically clear epoxy adhesive, sealant and potting compound. Resists up to 450°F. Long working life. Cures at elevated temperatures. Superb electrical insulation properties.