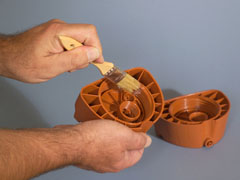 Master Bond has developed a comprehensive line of adhesives to bond rubbers to each other as well as to metals, plastics, ceramics and glass. These bonding compounds offer enhanced performance properties and easy application.
Advanced Bonding Capabilities of Master Bond's Rubber Bonding Adhesives
Specific rubber bonding products adhere to a number of different rubbers, including:
Advantages of Using Master Bond's Rubber Bonding Adhesives, Sealants and Coatings
Generally, bonding rubber surfaces requires time consuming surface preparation that depends upon expensive and hazardous materials. Specific Master Bond epoxy formulations can be applied in rubber bonding applications without the need for any surface preparation. Using Master bond's rubber bonding adhesives will:
Save you time
Reduce your production costs
Eliminate the need for corrosive and dangerous materials
Our compounds are presently employed in industries ranging from automotive, medical and electronic to oil/chemical processing, aerospace and optical.
Most Popular Rubber Bonding Systems
One part, "instant" curing cyanoacrylate with excellent adhesion to many rubber substrates. Very high bond strength.
Two part, room temperature curing epoxy with outstanding flexibility and superb adhesion to many rubbers and metals. Excellent thermal cycling properties.
One part, solvent based contact adhesive. Room temperature curable. Bonds well to most rubbers along with many other substrates.
High peel strength, room temperature curing epoxy. Has an elongation over 300%. Low temperature serviceability.