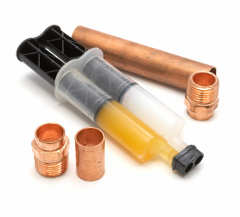 From aluminum to cast iron to stainless steel to titanium, Master Bond one and two component adhesive systems meet the challenging needs of metal bonding applications. These job proven formulations are presently employed in applications ranging from design and production to repair, maintenance and field service.
Some of the most commonly used metal substrates include:
Some of the most commonly used metal alloys include:
Types of Metal Bonding Adhesives
Master Bond's metal bonding systems are presently employed in industries ranging from aerospace, optical and electronic to oil/chemical processing, medical and automotive. Available chemistries include:
Epoxies
Silicones
Polyurethanes
Polysulfides
Cyanoacrylates
UV cures
Most Popular Metal Bonding Systems
Two part, room temperature cured adhesive. Service temperature range of -100°F to +400°F. High peel and shear strength. Convenient one to one mix ratio. Resistant to shock, vibration and impact.
One part, heat cured epoxy system. Heat resistant to +600°F. High compressive and tensile shear strength. Excellent toughness and resistance to thermal cycling, shock and vibration.
NASA low outgassing approved. High physical strength properties. Easy to mix and apply. Excellent chemical resistance.
Heat resistant epoxy adhesive/sealant. Exhibits exceptional mechanical strength. Low viscosity system. Long pot life. Cures at elevated temperatures.
No mix compound has exceptional tensile strength properties. Superior dimensional stability. Convenient cure schedule.