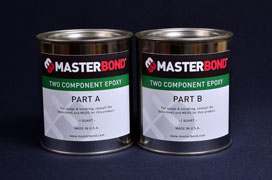 Two component epoxies feature unique versatility in application and performance. These systems consist of a resin and a hardener that can be formulated to offer a wide range of mechanical, thermal, optical and electrical properties. While mix ratios differ, they all offer the ability to cure at ambient temperatures or at elevated temperatures for faster cures.
Advantages of Two Component Epoxy Systems
Master Bond two part epoxy adhesive systems can produce assemblies mechanically equivalent to or stronger than conventional metal fastened parts at a lower cost and weight. They also offer:
Resistance to vibration and shock
Ability to withstand thermal cycling
Fast cures at ambient temperatures
Gap filling capability
Exceptional adhesion to similar and dissimilar substrates
Uniform stress distribution
Long-term durability
Easy application
Solvent free formulation
Dimensional stability
Learn more about epoxy systems with long pot life and low exotherm.
Special Certifications for Two Component Epoxy Adhesives, Sealants, Coatings and Potting Compounds
Many of Master Bond's two part adhesives, sealants and coatings are approved for use in various applications and industries including:
NASA low outgassing
USP Class VI for biocompatibility
FDA CFR 175.300 for food applications
UL94V-0 specification for flame retardancy
Halogen free
Master Bond's Most Popular Two Part Epoxy Systems
Ultra high strength, two part epoxy adhesive that bonds well to most metals and plastics. Aluminum to aluminum lap shear exceeds 4,000 psi.
Two component, silver filled epoxy system with a convenient one to one mix ratio and very low volume resistivity.
NASA low outgassing approved epoxy serviceable up to 450°F. Cures at ambient temperatures. Tensile strength >12,000 psi. Shore D hardnes >75. Superior dimensional stability.
Quartz filled epoxy system. Features high tensile modulus, outstanding compressive strength and superior dimensional stability.
Room temperature curing epoxy adhesive has a convenient one to one mix ratio. High shear and peel strength. Toughened. NASA low outgassing approved. Stress cracking fatigue resistant. Serviceable from -100°F to +400°F.