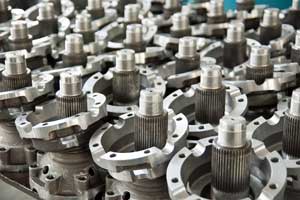 Master Bond offers an extensive product line of epoxies, silicones, polyurethanes, polysulfides, cyanoacrylates and UV cures for original equipment manufacturing applications. These polymer systems are used widely within the OEM industry for many different manufacturing assemblies including:
Applications Featuring Master Bond Polymer Systems
Original equipment manufacturers can rely on Master Bond for all their bonding, sealing and coating applications. Our products are commonly used in a variety of machinery manufacturing applications including:
Cryogenic freezers
Potting of transformers
Vacuum/pressure impregnation
Bonding of hydraulic parts
Sealing of semiconductor components
Master Bond's Most Popular Adhesives, Sealants and Coatings
Two part, room temperature cured adhesive. Service temperature range -100°F to 400°F. High peel and shear strength. One to one mix ratio. Resistant to shock, vibration and impact.
Clear, two component epoxy system has long pot life. Convenient one to one mix ratio. High bond strength. Superb chemical resistance properties.
Two component, non-drip, toughened, heat resistant epoxy adhesive. Superior durability and bond strength. Resists long term exposure to 500°F. Withstands chemical exposure.
One component, high performance, non-corrosive silicone. Serviceable up to 300°C (572°F). Self-leveling. Shore A hardness 25-35. Tack-free time 4-8 minutes.
Thermally conductive, electrically insulative epoxy has a 1 to 1 mix ratio by weight or volume. High bond strength. Resists up to 400°F.