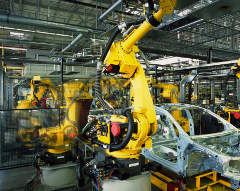 Toughened, high performance structural adhesives offer fast processing speeds and exceptional bond strengths to similar and dissimilar substrates. These compounds are formulated to improve vehicle performance, safety, lower weight and enhance comfort. Master Bond's cutting edge solutions are used in interior and exterior applications, including:
Roof panels
Doors
Interior dashboards
Hoods
Deck lid flanges
Key Benefits of Structural Epoxy Adhesives for Automotive Applications
Master Bond structural adhesives feature excellent adhesion to a wide range of substrates including aluminum, steel, magnesium and composites. Other advantages include:
Uniform stress distribution and larger stress bearing areas
Gap filling
Solvent free
Contagious contact between substrates promotes load bearing and sealing properties
Lower cost and increased productivity
Wide service temperature range
Reduces vibration and improves acoustics
Improved energy efficiency through weight reduction
Outstanding fatigue, mechanical shock and thermal shock resistance
Can bond surfaces with different coefficients of expansion and contraction
Superior moisture and chemical resistance
Easy automatable application
Job proven one and two component adhesive systems replace mechanical fasteners/welds, increase car body stiffness, protect against pressure/corrosion while enhancing vehicle aesthetics. (Standard and custom colors are available.) Advanced compounds shorten cycle times, streamline assembly operations, reduce manufacturing space requirements and lower labor/capital expenses. Efficient, reliable, accurate application techniques range from manual/semi-automatic, single/dual cartridge gun dispensers to robotic processing equipment. Innovative formulations are designed to keep pace with the evolving requirements of automotive engineers.
Most Popular Structural Adhesives for the Automotive Industry
Two component, room temperature curing adhesive, sealant and coating. Volume resistivity of 1014 ohm-cm. Dielectric constant of 2.90. Excellent insulation and a one to one mix ratio. High mechanical strength properties. Tensile lap shear when bonding aluminum to aluminum of 3,200 psi at 75°F.
Two part, fast setting (3-5 minutes in 10-20 gram masses), room temperature curable epoxy that resists temperatures up to 400°F. Glass transition temperature over 125°C. NASA low outgassing approved.
Thermally conductive, electrically insulative, room temperature curing epoxy system. High bond strength. Thermal stability up to 400-450°F. Superior chemical resistant properties.
Tough, resilient, room temperature curing epoxy adhesive. Resists exposure to vibration, impact and shock. Superior peel and shear strength.