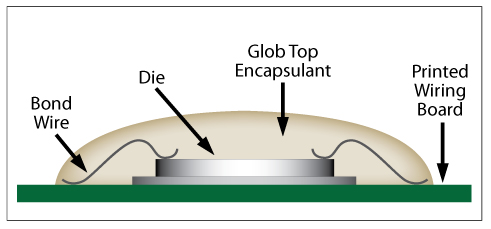 Master Bond's unique glob top compounds are ideal for the encapsulation of semiconductor chips and wire bonds mostly in chip on board (COB) applications. These formulations offer protection against moisture, chemicals and contaminants. Additionally, they minimize the thermal mismatch between chips and substrates. They also provide mechanical support and electrically insulative properties.
Types of Glob Top Coatings
One component epoxies
Two component epoxies
UV curing systems
Benefits of Master Bond Glob Top Coatings
Low stress
Low outagssing
Low shrinkage
Easy application
High purity
Fast cure speeds
Special flow properties
Master Bond's Most Popular Glob Top Formulations
One part, UV curable epoxy with ultra fast curing. Good physical properties and chemical resistance.
Superior one part glob top. Outstanding dimensional stability and temperature resistance. Cures at 125-150°C.
Two part, room temperature curing epoxy with easy handling and very good physical strength properties.
Two part, one to one mix ratio epoxy. Working life 5-10 minutes. Full cure in 3-4 hours at ambient temperatures.