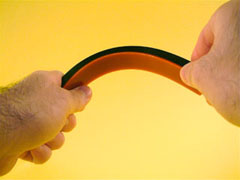 Master Bond has developed the widest variety of flexibilized and toughened epoxies, silicones, polyurethanes, polysulfides and UV curables for special application requirements. These compounds are designed for high performance even in hostile environmental conditions and are serviceable at low to high temperatures.
Features of Master Bond's Flexibilized and Toughened Adhesive Systems
Master Bond's flexibilized and toughened adhesives, sealants and coatings are presently employed in applications ranging from design and production to repair, maintenance and field service. Specific grades offer:
Excellent electrical insulation and chemical resistance properties
Electrical and thermal conductivity
NASA low outgassing approval
Superior thermal shock, impact and stress cracking fatigue resistance
Optical clarity
Outstanding adhesion to dissimilar substrates
Our Most Popular Flexibilized and Toughened Epoxy Compounds
B-staged film adhesive/sealant. Outstanding thermal cycling capabilities and structural properties. Offers superior toughness and flexibility. Excellent strength retention at elevated temperatures.
High peel strength, room temperature curing epoxy. Has an elongation over 300%. Low temperature serviceability.
Two part, room temperature curing polysulfide for bonding, coating, sealing and casting applications. Exceptionally tough. Service temperature range of -80°F to +250°F. Convenient one to one mix ratio. Shore D hardness of 35.
One component, no mix epoxy system. Serviceable from 4K to +400°F. Shore D hardnes >70. Good flow properties. Excellent peel and shear strength. Superior thermal cycling ability.
Two component, non-drip, toughened, heat resistant epoxy adhesive. Superior durability and bond strength. Resists long term exposure to 500°F. Withstands chemical exposure.