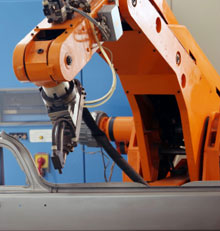 Master Bond offers a wide variety of adhesive systems with the ability to cure in a few seconds to several minutes. These fast cure formulations are available in both one and two component systems and are widely used by manufacturers seeking maximum efficiency and greater productivity. The one part systems require no mixing and cure upon exposure to heat, UV light or moisture. Two part systems cure at ambient/room temperature or at slightly elevated temperatures.
Types of Fast Curing Polymer Systems
Our fast cure product line offers a wide selection of:
Epoxies
Polyurethanes
Silicones
Instant curing cyanoacrylates
UV cure systems
LED cure systems
Distinct Quick Curing Epoxies
Stainless steel filled two component epoxy system SteelMaster 43HT rebuilds, restores and reseals worn or damaged metallic components. It is readily machinable after cure and offers excellent resistance to corrosion. Silver filled, electrically conductive EP77M-F has an exceptionally low volume resistivity of 10-3 ohm cm. It is a smooth paste and contains no solvents. EP77M-F offers high bond strength, chemical resistance and durability.
Some of Our Most Popular Fast Curing Adhesives, Sealants and Coatings
High temperature resistant, fast curing, two part epoxy. Service temperature range of -60°F to +400°F. Meets NASA low outgassing specifications. Good electrical insulator with excellent mechanical properties.
Serviceable down to 4K. Spreads evenly and smoothly. Shore D hardnes >70. High tensile lap shear strength.
High strength, ethyl cyanoacrylate, rapid curing, one part adhesive. No mixing required. Bonds well to metals, plastics and most rubbers.
One component, high viscosity UV curable system. Outstanding optical clarity. Tg of 140°C. Enhanced chemical resistance. Superb physical strength properties.
Single component, snap cure epoxy adhesive. Cures in 2-3 minutes at 250-300°F. Service temperature range of -60°F to +400°F. Shore D hardnes >85. Resists water, oil and most organic solvents.