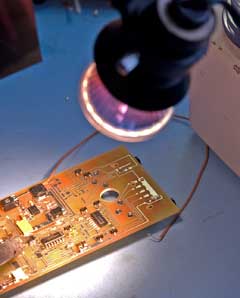 Fast curing, single component, no mix UV curable potting compounds offer superior electrical insulation properties. Specific grades cure up to 1/4 inch in depth. These compounds protect against moisture/chemicals, high/low temperature exposure, mechanical/thermal shock and vibration. Environmentally friendly, these products are 100% solid systems and contain no solvents.
Common Applications for Master Bond UV Curable Potting Compounds
Master Bond UV curable potting compounds have excellent bond strength to metals, ceramics and most plastics. Typical potting applications include :
Sensors
Capacitors
Connectors
Detectors
Inductors
Switches
Relays
Additionally, UV curable systems have "unlimited" working life, eliminate waste and can be used for tamper proofing. Grades feature toughness, optical clarity and non-yellowing properties.
Popular UV Curable Potting Compounds
Single component, flexible UV cure compound. Low viscosity of 800 to 1,500 cps. Outstanding non-yellowing properties. Superior electrical insulation characteristics. Fast curing. Withstands thermal cycling. Can cure up to 1/4 inch thick.
USP Class VI approved system. Outstanding chemical and water resistance. Excellent electrical insulation properties.
UV and heat curable epoxy formulation. Cures in "shadowed out" areas at temperatures as low as 80°C. Passes 1,000 hours at 85°C/85% humidity.
UV curable urethane elastomer system. Has high flexibility and superb abrasion resistance. Withstands thermal cycling.