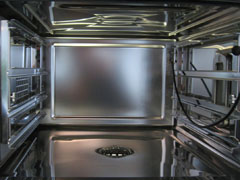 Master Bond's epoxy adhesive systems are employed in a wide range of appliance applications ranging from refrigerators, washers and dryers, to coffee makers and DVD players. We formulate an extensive array of epoxies, silicones, polyurethanes, polysulfides, cyanoacrylates and UV/visible light cure systems for the assembly of appliances.
Epoxy System Performance Properties for the Assembly of Appliances
Specific grades of Master Bond's specialty epoxy adhesives for white/brown appliance and subassembly applications include:
Fast cures for high speed assembly applications
Resistance to vibration, impact and shock
Enhanced chemical, moisture, steam and flame resistance
Superior electrical insulation properties
Thermal and electrical conductivity
Protects against corrosion
Additionally, products are designed to improve aesthetics, absorb sound, withstand high/low temperatures, severe pressure and prevent heat/cold loss.
Specific Uses for Master Bond Adhesives
Our line of compounds provide manufacturing companies reliable, high tech, cost effective solutions and increase efficiency. Common uses are:
Potting connectors
Adhering door assemblies
Laminating panels
Bonding door handles
Sealing glass tops to frame
Magnet bonding
Form-in-place gaskets for stove tops
Potting terminal switches
Conformal coating PC boards
Sealing push-button controls
LED bonding
Food Grade Certified Epoxy System
Master Bond also offers a food grade certified epoxy system that can be used in a variety of applications as an adhesive, sealant or coating. This epoxy system is ideal for bonding and sealing metals, plastics, rubbers and other substrates commonly found on food service equipment. It is also formulated to withstand exposure to boiling water, steam, fats, oils and many other chemicals.
Cyanoacrylate Adhesives for Appliance Assembly
Glass, metal, ceramic, plastic substrates can be rapidly bonded with single component cyanoacrylate adhesives for attachment of corporate logos, door seals, bonding control knobs and touch-up switches. UV/Visible light curing compounds lower operating costs, reduce waste and increase throughput in display, cabinet, control panel and circuitry assembly. These environmentally friendly formulations provide durability, cure "on demand", contain no solvents, and offer strong bond strength even after aging. Form-in-place gaskets for clothes washers, dryers, electric ranges, cutting tools and air conditioners cure in seconds, lower labor costs, improve product designs and decrease inventory/floor space requirements.
Silicone Systems and Epoxies

One and two component silicones have fast handling times, good bond strength to many substrates such as glass, stainless steel, many engineered plastics and can be applied automatically with robotic equipment to streamline production. High elongation, low stress systems are employed for oven doors, sealing glass tops to metal frames on electric ranges, potting thermocouples and bonding nylon parts on clothes washers. They offer thermal stability and resist shaking. Gap filling one and two part epoxies feature structural bonding capability, impermeability to liquids, gases, electrical insulation characteristics. Applications consist of sealing formed joints, potting wire harnesses, motor assembly, filter end caps, bonding and conformal coating PC boards.Specific grades offer sound dampening properties, superior tear resistance and can be dispensed on complex shapes.
Master Bond is at the forefront of developing novel formulations to meet the evolving needs of the appliance industry. We are constantly working with major manufacturing companies to cost effectively bond multiple light weight substrates and improve the functionality, aesthetics and energy efficiency of their future products. Major technological advances have led to safer, higher performing, government compliant, reliable solutions. Special attention has been placed in addressing ergonomic, environmental, interconnectivity design issues. Our products will give you a competitive edge and improve profitability by responding to customer desires.
Most Popular Adhesive Products for the Assembly of Appliances
Two part silicone potting/encapsulation compound. Superior thermal conductivity. High elongation. Long pot life. Cures in thicknesses beyond 1-2 inches. UL 94V-0 flame retardant system.
Fast, one component heat curable adhesive. Serviceable from -60°F to +400°F. High shear strength properties. Shore D hardnes >70.
One component, high performance, non-corrosive silicone. Serviceable up to 300°C (572°F). Self-leveling. Shore A hardness 25-35. Tack-free time 4-8 minutes.
Food grade epoxy system toxicologically evaluated to meet the NSF/ANSI 51.4.1 (2009) standard for food equipment materials. Certified to meet FDA CFR 175.300.
UV and heat curable epoxy formulation. Cures in "shadowed out" areas at temperatures as low as 80°C. Passes 1,000 hours at 85°C/85% humidity.
One component, high viscosity UV curable system. Outstanding optical clarity. Tg of 140°C. Enhanced chemical resistance. Superb physical strength properties.