You are here
Adhesives for the Assembly of Appliances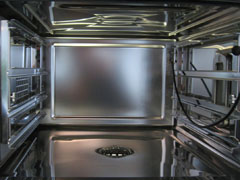 Master Bond's epoxy adhesive systems are employed in a wide range of appliance applications ranging from refrigerators, washers and dryers, to coffee makers and DVD players. We formulate an extensive array of epoxies, silicones, polyurethanes, polysulfides, cyanoacrylates and UV cure systems for the assembly of appliances.
Epoxy System Performance Properties for the Assembly of Appliances
Specific grades of Master Bond's specialty epoxy adhesives for appliance applications include:
Fast cures for high speed assembly applications
Resistance to vibration, impact and shock
Enhanced chemical, moisture and flame resistance
Superior electrical insulation properties
Thermal and electrical conductivity
Additionally, products are designed to improve aesthetics, absorb sound, withstand high/low temperatures and severe pressure.
Specific Uses for Master Bond Adhesives
Our line of compounds provide manufacturing companies reliable, high tech, cost effective solutions and increase efficiency. Common uses are:
Potting connectors
Adhering door assemblies
Laminating panels
Bonding door handles
Sealing glass tops to frame
Magnet bonding
Food Grade Certified Epoxy System
Master Bond also offers a food grade certified epoxy system that can be used in a variety of applications as an adhesive, sealant or coating. This epoxy system is ideal for bonding and sealing metals, plastics, rubbers and other substrates commonly found on food service equipment. It is also formulated to withstand exposure to boiling water, steam, fats, oils and many other chemicals.
Most Popular Adhesive Products for the Assembly of Appliances
Two part silicone potting/encapsulation compound. Superior thermal conductivity. High elongation. Long pot life. Cures in thicknesses beyond 1-2 inches. UL 94V-0 flame retardant system.
Fast, one component heat curable adhesive. Serviceable from -60°F to +400°F. High shear strength properties. Shore D hardnes >70.
One component, high performance, non-corrosive silicone. Serviceable up to 300°C (572°F). Self-leveling. Shore A hardness 25-35. Tack-free time 4-8 minutes.
Food grade epoxy system toxicologically evaluated to meet the NSF/ANSI 51.4.1 (2009) standard for food equipment materials. Certified to meet FDA CFR 175.300.
UV and heat curable epoxy formulation. Cures in "shadowed out" areas at temperatures as low as 80°C. Passes 1,000 hours at 85°C/85% humidity.
One component, high viscosity UV curable system. Outstanding optical clarity. Tg of 140°C. Enhanced chemical resistance. Superb physical strength properties.