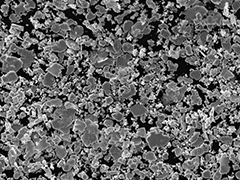 One and two component, silver filled, electrically conductive compounds feature low volume resistivity and high reliability. They offer excellent physical strength properties, superior substrate adhesion and uniform electrical conductivity. They are often used as replacements for solder.
Advanced Properties of Master Bond Silver Filled Adhesive Systems
Master Bond silver filled adhesives are designed to meet specific performance requirements. Certain grades offer:
Serviceability at high and low temperatures
Low stress
High shear and peel strength
Resistance to thermal cycling
Low outgassing
USP Class VI approval
Applications of Silver Filled, Electrically Conductive Systems
These products are commonly employed in the automotive, medical, appliance, electronic, electrical, microwave, aerospace and electro-optic industries. Specific applications include:
Die attach
SMD attach
EMI/RFI shielding
Grounding
Solder replacement
Flip chip attachments
PCB repair
Most Popular Electrically Conductive, Silver Filled Polymer Systems
Fast setting, silver filled system. Convenient handling. Particularly useful in manufacturing, circuit board repair and other applications where rapid tack is required. Superior bond strength and exceptionally low volume resistivity.
Two component, silver filled, electrically conductive system with high flexibility and elongation. Serviceable over the wide temperature range of 4K to +250°F.
One component, no mix, silver conductive system with exceptionally high shear and peel strength. Snap cure. Very low volume resistivity. Passes NASA low outgassing tests. Cryogenically serviceable
One component, high performance, silver filled epoxy adhesive film. Outstanding electrical conductivity and mechanical strength. Serviceable over the wide temperature range of -100°F to +400°F. Easy processing and minimal squeeze out during bonding. Fast curing at moderate temperatures.
Two component, silver conductive epoxy for high performance bonding and sealing featuring high peel strength, superior toughness and exceptionally low volume resistivity.
One component, silver filled, non-corrosive silicone or bonding and sealing. It cures readily at ambient temperatures when exposed to atmospheric moisture. ideal for many electronic applications.