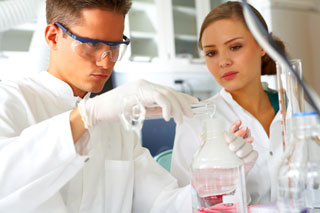 Specially formulated Master Bond epoxy adhesives, sealants and coatings are designed to provide exceptional protection against alcohol exposure. These solvent-free compounds exhibit high bond strength, feature easy application and provide reliable cost effective solutions for many critical requirements.
Master Bond High Performance Alcohol Resistant Epoxy Systems
Grades are available that feature resistance to selected alcohols such as:
Ethanol
Methanol
Isopropyl alcohol
Butanol
Applications of Master Bond Alcohol Resistant Adhesives
Master Bond's alcohol resistant solutions serve a variety of functions in automotive, scientific, utility and chemical processing applications. These compounds are commonly applied as adhesives and sealants for chemical piping and as coatings and liners for chemical storage tanks.
Master Bond's database of chemical immersion tests extends up to 10 years
Most Popular Alcohol Resistant Polymer Systems
Two part, high performance epoxy resin system. Long pot life at ambient temperatures and cures at moderately elevated temperatures. High thermal stability and exceptional chemical resistance properties.
Easily processable, two part epoxy with excellent chemical resistance, particularly to solvents. Available in black.
One component, high strength, flexible, UV curable resin compound with outstanding chemical and water resistance for high performance bonding, sealing and coating.