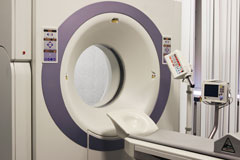 Technologically advanced adhesives, sealants, coatings, potting and encapsulation compounds have been developed to meet the increasingly challenging requirements of manufacturers of medical diagnostic equipment. These formulations feature high bond strength to similar and dissimilar substrates, offer high/low temperature resistance, withstand exposure to moisture and chemicals and have long-term durability. Specific grades are electrically conductive, thermally conductive, USP Class VI approved, NASA low outgassing certified and optically clear.
Types of Medical Diagnostic Equipment Using Master Bond Compounds
MRI machines
PET and CT scanners
Ultrasound machines
Electrocardiograph devices
Tonometers
X-ray machines
Otoscopes
Spirometers
Most Popular Products for Medical Diagnostic Equipment
Two component, room temperature curing, radiopaque epoxy adhesive, sealant and coating. Effective for even 100 KV, px-ray (peak x-ray) machines and higher energy capacities. Convenient one to one mix ratio.
USP Class IV approved, heat resistant epoxy adhesive. Glass transition temperature in excess of 220°C. Withstands repeated exposure to autoclaving, radiation and chemical sterilants. High bond strength.
Flexible, optically clear, low viscosity silicone system. Meets USP Class VI specifications. Superior electrical insulation properties. Potting and encapsulation compound.
Low viscosity epoxy adhesive, sealant, coating and casting compound. USP Class VI approved. Resists vibration, impact and shock. Withstands thermal cycling. Ideally suited to bond dissimilar substrates.