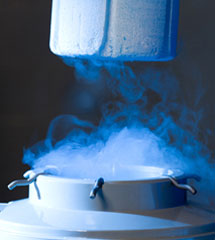 Master Bond offers a wide range of versatile, high performance epoxy formulations to withstand the severe conditions found in cryogenic environments. These adhesives, sealants and coatings are available as one or two part systems, requiring either ambient or elevated temperature cures.
Special Grades of Cryogenic Epoxies Are:
Electrically conductive
Thermally conductive/electrically insulative
Cryogenic shock resistant
Optically clear
NASA low outgassing approved
Mechanical shock resistant
These products are utilized by engineers in a wide range of different branches of technology for:
Satellites
Energy storage
Sensors
Telecommunications
Cryosurgery
Magnetic resonance imaging
Superconductivity
High energy physics
Learn more about our cryogenic epoxies for the Liquefied Natural Gas Industry.
Some of Our Most Popular Cryogenic Adhesive Systems
Very low viscosity, two part, optically clear epoxy system. Withstands exposure to cryogenic shock. High bond strength. NASA approved for low outgassing. Requires a minimum temperature of 135-150°F for curing.
Two part, room temperature curable epoxy system with a paste consistency. Possesses excellent thermal conductivity and meets NASA low outgassing specifications. Has a very low coefficient of thermal expansion. Halogen free.
Low viscosity, modified heat curing epoxy meets NASA low outgassing requirements. Ideal for potting and encapsulation. Thermally conductive, electrically insulative. Serviceable at cryogenic temperatures down to 4K.
Tough, silver filled, electrically conductive epoxy system. Features very low volume resistivity. Cures at room temperature. Offers high peel and shear strength. Passes ASTM 595 for NASA low outgassing approval.
Rapid curing version of our popular Supreme 10HT one part epoxy system. Requires oven curing at 250-300°F. Excellent physical strength properties. Ideal for thermal cycling.