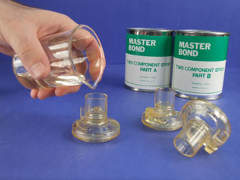 From power supplies to connectors to sensors and relays, Master Bond potting and encapsulation compounds optimize performance and provide easy processing. Our line of products consists of epoxies, silicones, polyurethanes and UV curable systems. These polymeric formulations have excellent adhesion, thermal stability and outstanding chemical resistance.
Properties of Potting and Casting Systems
Our technologically advanced potting and encapsulation materials are designed to resist exposure to hostile environmental conditions. They offer the following advantages:
High voltage insulation
Enhanced thermal management properties
Exceptionally low coefficients of thermal expansion
Thermal shock resistance
Cryogenic serviceability
Special Potting and Encapsulation Formulations
Many of our compounds have been formulated to meet strict industry standards, including:
UL 94V-0 for flame resistance
NASA low outgassing
USP Class VI for medical use
FDA CFR 175.300 for food grade
Low viscosity, self leveling rigid, semi-rigid and flexible compositions eliminate gas entrapments and are ideal for high volume production applications. These solvent free 100% solid systems feature low shrinkage, outstanding dimensions, stability, excellent mechanical properties and can be dispensed manually/automatically. They guard against abrasion, shock, vibration, impact, UV, fungus, moisture exposure including salt water immersion. Specific grades exhibit superior thermal dissipation characteristics and have high glass transition temperatures. Heat activiated systems can be cured at low temperatures and exhibit low exotherm even in various wide cross section thicknesses. All products are ROHS compliant.
Learn more about the importance of a long pot life and low exotherm in potting applications.
Some of Our Most Popular Potting & Encapsulation Epoxy Systems
Two part, room temperature curing, epoxy gel compound for sealing and encapsulation. Optically clear, soft and dimensionally stable. Ideal for retrievability.
Low viscosity, optically clear epoxy. Ideal for thermal cycling and sensitive components. Room temperature or low elevated temperature cure.
Thermally conductive, electrically insulative B-stage toughened epoxy. One part system. Ideal for potting and encapsulation. Capable of withstanding rigorous thermal shocks. Serviceable from -100°F to +500°F. Available in 30 gram cookies.
Flexible, low viscosity, thermally conductive epoxy. Meets NASA low outgassing specifications.
Superb general purpose, room temperature curing epoxy potting material. Easy to use. Suitable for casting 1-2 inches high. Also available in a USP Class VI biocompatible version.
High temperature resistant epoxy capable of resisting +450°F. Also available in a USP Class VI medical grade. Resists repeated autoclaving. For best results, cure at room temperature followed by 150-200°F.
Two part epoxy that meets UL 94V-0 specifications. Used primarily for potting and encapsulation applications. Convenient one to one mix ratio. Cures at room temperature. Excellent resistance to fuels and lubricants.
Potting compound offering low exotherm. Outstanding chemical resistance and electrical insulation properties. Cures at ambient temperatures or more quickly at elevated temperatures.