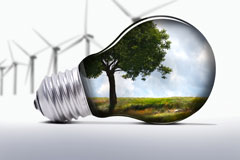 The need for ecologically safe, cost effective solutions for the global demands of alternative energy sources is growing exponentially. Master Bond has been in the forefront of the formulation of adhesives, sealants, coatings and potting/encapsulation compounds to meet the ever changing needs of this vital industry.
Advanced Solutions and Products for Alternative Energy Applications
Master Bond has an extensive product line that serves a variety of renewable energy applications including:
Solar and wind power
Hydropower
Fuel cells
Advantages of Using Master Bond Adhesives for Renewable Energy Applications
Master Bond adhesives offer excellent adhesion to glass, metals, ceramics and most plastics. Using these compounds can:
Lower production costs
Increase the durability and reliability of renewable energy devices
Seal leaks and protect against corrosion
Types of Adhesive Systems Available for Alternative Energy Applications
Electrically conductive
Thermally conductive
Low stress
Fast curing
RoHS compliant
Thermal stability
Most Popular Polymer Compounds for the Renewable Energy Industry
Two component, room temperature curing, thermally conductive epoxy for bonding and sealing featuring high temperature resistance and high shear and peel strength.
Two component, silver conductive epoxy for high performance bonding and sealing featuring high peel strength, superior toughness and exceptionally low volume resistivity.
High strength, high viscosity, rapid curing cyanoacrylate adhesive for reliable, cost effective bonding used in lens fixation.
Low stress, optically clear two component epoxy resin system for high performance bonding, casting and coating applications.
Addition cured silicone. Will not outgas while curing. Resists up to +400°F. Soft durometer. Offers repairability. Paste consistency. Long pot life.
One component, optically clear UV curable polymer system with electrical insulation and chemical resistance.
Two component epoxy resin system for durable, high performance, high strength coatings, liners and adhesives with outstanding chemical resistance, particularly to acids.