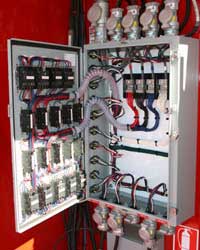 Master Bond's advanced polymer compounds offer outstanding performance properties for the manufacturing of electrical devices. Specific grades are NASA low outgassing certified and comply with UL 94V-0 flame retardant specifications.
Electrical Device Applications
Our wide range of epoxies, silicones, polyurethanes, polysulfides, cyanoacrylates and UV cure systems are highly regarded within the electrical device industry. Common devices featuring our polymer compounds include:
Line voltage regulators
Industrial controls
Electronic meters
Electromagnetic brakes and clutches
Motors
Electrical switchgear apparatus
Most Popular Adhesive Compounds for Electrical Device Applications
Heat cured film adhesive with low volume resistivity. Bonds well to metals and high temperature plastics. Service temperature range of -100°F to 400°F. Standard size is 0.003" thick x 2" wide x 6" long. Die cuts available.
One part, heat cured structural epoxy with long working life. Excellent shear and peel strength. Cryogenically serviceable down to 4K. Heat resistant to 400°F. Screen printable. Low volume resistivity of less tha <10-3 ohm-cm.
Two component, room temperature curing adhesive, sealant and coating. Volume resistivity of 1014 ohm-cm. Dielectric constant of 2.90. Excellent insulation and a one to one mix ratio. High mechanical strength properties. Tensile lap shear when bonding aluminum to aluminum of 3,200 psi at 75°F.
Toughened, two component epoxy system for bonding, sealing and potting. Excellent resistance to impact and exposures to many chemicals. Superior electrical insulation properties.