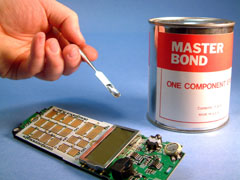 Master Bond's non-drip formulations feature superior gap filling capabilities while maintaining outstanding bond strength to a variety of substrates. These high viscosity epoxy, polyurethane, silicone, polysulfide and UV curing systems can be applied on vertical surfaces without any sagging.
Common Applications using Non-Drip Adhesive Systems
Master Bond's non-drip adhesive compounds are employed in a wide range of applications including:
Filling of large gaps in worn metal surfaces
Gap sealing in oil, gas, pressure and water tanks
Bonding of magnet assemblies
Protective coating for vertically oriented surfaces
Find out more about the benefits of a thixotropic adhesive.
Our Most Popular Non-Drip Adhesives, Sealants and Coatings
Two part, room temperature curing epoxy. Convenient one to one mix ratio. Non-drip and non-sag on vertical surfaces. Excellent electrical insulator with outstanding mechanical properties.
One part epoxy system, cures at 250-300°F. Completely non-flow when applied and cured. Service temperature range of 4K to +400°F. High shear and peel strengths to a wide variety of similar and dissimilar substrates.
Quartz filled epoxy system. Enhanced corrosion and abrasion resistance. Paste viscosity. Convenient one to one mix ratio.