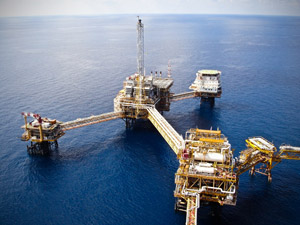 Master Bond one and two component epoxy systems are widely employed in exploration, drilling and production applications. These solvent free formulations offer excellent adhesive strength, convenient cure schedules and are packaged to maximize productivity.
They feature exceptional protection against:
Elevated temperatures
Harsh chemicals
High pressures
Sea and fresh water environments
Additionally, specific grades are serviceable at low temperatures, can withstand abrasion and cure underwater.
Learn more about advanced epoxies for high pressure, high temperature downhold conditions
Learn how epoxies protect offshore oil structures
Most Popular Epoxy Compounds for the Oil and Gas Production Industry
Two part, heat cured (250-300°F) epoxy system with excellent dimensional stability and chemical resistance. Serviceable from -60 to 450°F. Toughened, quartz filled system.
Room temperature curing epoxy featuring excellent chemical resistance. 100% reactive. High bond strength. Fast cure speed. Withstands exposure to organic solvents.
Two component, ambient temperature curing system with excellent physical properties. Thermally stable. High compressive strength. Features extraordinary resistance to fuels, alcohols and organic solvents.
One part, oven cured epoxy system with excellent thermal conductivity and superb temperature and oil resistance. Primarily used for bonding of heat sinks and sensors where heat transfer is desirable. Halogen free.
High performance adhesive/sealant/coating. Serviceable from -80°F to +500°F. Resists thermal cycling. Outstanding solvent resistance. 100% reactive. Cures at elevated temperatures.
Two part, water and steam resistant epoxy cures at 80-100°C and withstands autoclaving. Excellent chemical and electrical insulation properties. Features a long working life.